The European Pagan Memory Day project is a project made by Pagans for Pagans above all. So obviously one of the most fundamental passages of the project is the celebration of the Day itself, with a rite to the Gods, to the Pagans of Ancient Times, to the world: every Pagan or Pagan group who wants to celebrate the European Pagan Memory Day can choose addresses and ways of their celebration.
Celebrations can take place in different ways: from group rites to individual rites, from a candle lighting to the publication of an artwork.
On this page, you'll find rites celebrated from 2006 to 2010
Last year celebrations
Click here to see the latest celebrations
Federazione Pagana
Since 2007, the Federazione Pagana has been performing a rite every year, in their Sacred Wood in Jesolo (Venice) to celebrate the European Pagan Memory Day. The hymns they read during the rite are available on the Virtual Sacred Wood page, while the videos can be seen here.
Get Flash Player
to see the video, or allow your browser to execute the Active X control.
Personal rites
"For the European Pagan Memory Day 2010 I though to perform a small personal rite, celebrative, promotional and 'combative': a short running along the street of the city I live in, wearing the Pagan Memory Day T-shirt. Here are the photos: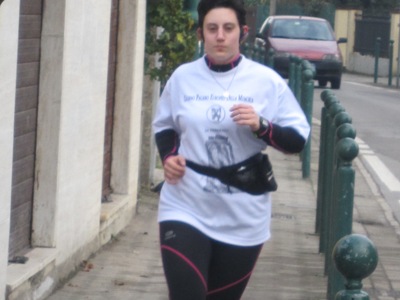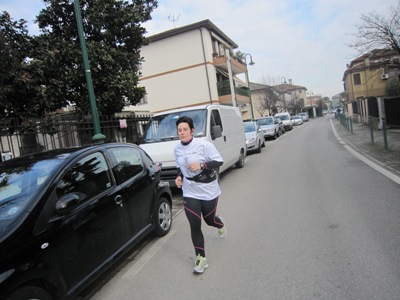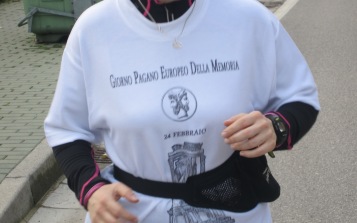 "
Manuela Simeoni
Accademia Pentalpha
In 2009, the Accademia Pentalpha group so presented on Facebook the event they organized for the European Pagan Memory Day:
24 Febbraio 391 d.C.
Questa è la data in cui, a seguito di un editto di Teodosio I, venne spento a Roma il Sacro Fuoco nel Tempio di Vesta, e fu solo il primo di molti altri fuochi sacri spenti in tutta Europa. Ferdinand Gregorovius descrive così la scena finale, all'ingresso di Teodosio in Roma: "I cristiani di Roma trionfavano. La loro tracotanza arrivò al punto, lamenta Zosimo, che Serena, sposa di Stilicone, entrata nel tempio di Rea, prese dal collo della dea la preziosa collana e se la cinse. Assistendo a questa profanazione, l'ultima vestale versò lacrime disperate e lanciò su Serena e su tutta la sua discendenza una maledizione che non andò perduta."
Quel fuoco ardeva a Roma dalla fondazione della città, e ne rappresentava l'anima eterna. Il suo spegnimento è un segno della cecità di ogni tipo di intolleranza.
Per questo motivo noi proponiamo, al di là e nel rispetto di ogni personale convinzione religiosa, di riaccendere quel fuoco nello stesso giorno in cui è stato spento. Rianimiamo il cuore della nostra città e rendiamola di nuovo eterna.
On the 24th February 2010 the Accademia Pentalpha promoted a debate on the future of neopaganism.
CosmoWitch
In 2009, the blog Cosmowitch so invited people to celebrate the European Pagan Memory Day:
A Roma il 24 febbraio 391, per ordine di Teodosio, fu spento per sempre il fuoco di Vesta che ardeva da secoli a protezione della città...
Da qui l'idea di consacrare questa data alla memoria, per non dimenticare i roghi delle biblioteche classiche, lo scempio fatto ai templi e ai luoghi sacri del paganesimo mediterraneo ma soprattutto per ricordare il brutale martirio di Ipazia e le vite di tutti quelli che non vollero abiurare l'antica religione e difesero fino alla morte la fede nei loro Dei... per loro diciamo una preghiera, accendiamo una candela, bruciamo dell'incenso, versiamo qualche libagione, o semplicemente fermiamoci per un istante e, almeno nelle nostre menti, ITERUM SUSCITAMUS VESTAE FOCUM (riaccendiamo il fuoco di Vesta).
The blog itself celebrated the Day with the image you can see here.